Like many other ministry leaders, when I was first called to ministry, I had passion and zeal to change the world for Christ. After all, we get the privilege of introducing people to the creator of the world, to a God who can dramatically change the human heart for good. I couldn't wait to see how God would use me in his epic story.
I quickly found out that ministry wasn't as easy or as glamorous as I thought. That first summer, as an intern, a student drowned at one of our retreats. I can remember sitting in the hospital room with the brother of the student who just died. I thought, "Why did the youth pastor choose me to be here with the brother?" I felt so inadequate. Youth ministry is supposed to be about leading kids to Christ, discipling them and having fun. Yet here I was dealing with a tragedy.  I learned that ministry was less about fun and more about walking with people through life, both the highs and lows.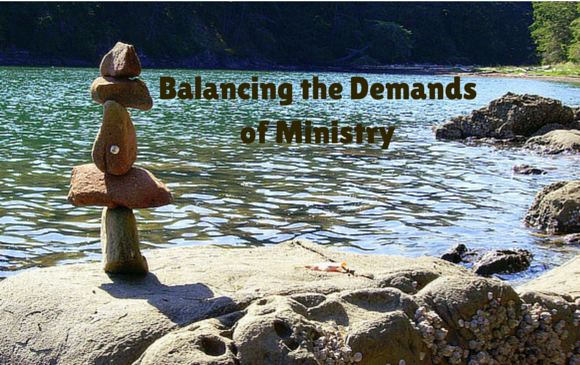 I have been involved in ministry for over thirty years. The demands of dealing with death, illness, counseling, weddings, sermon prep, programs, ministry leaders, etc. can be overwhelming. I have watched the tide of passion for ministry turn quickly, not only in my life, but also in the lives of many others.  The Schaffer Institute reports that fifty percent of those who graduate from seminary will be out of ministry in five years and only ten percent will finish their careers in some form of ministry.  Those numbers are staggering. Many pastors become burned out, hurt, disillusioned, experience moral failure or succumb to compassion fatigue.
In this blog post I want to address one of these issues – balancing the demands of ministry. These demands or expectations can be both internal and external. Internally we see the needs of our congregation and community and often feel obligated to meet them. We feel the external pressure to be at every church event, talk to every hurting family, plan dynamic programs that will draw in the masses and change lives. What about our spouses, family and friends? They need time with us. Very quickly we can find ourselves burning the candle at both ends.
But isn't that what ministry leaders are supposed to do? Over the years I have watched too many ministry leaders feel overwhelmed and give up. Their marriages fall apart. Their families feel neglected and resentful, often becoming dysfunctional.
How do you say no to ministry opportunities? How do you create healthy boundaries? Or should you?
Jesus had boundaries. Jesus frequently carved out time in his busy schedule to get away to be with his heavenly Father.  On one occasion the disciples were searching for Jesus and told him, "Everyone is looking for you." The Greek word that is translated "search" actually means, "to hunt down, track, or pursue with hostile intent." Needless to say the disciples were not happy with Jesus. After all, there were people to meet and minister to. But Jesus knew he needed time away and he took it.
If the Savior of the world needed boundaries, how much more do we? We need to start by evaluating the way we spend our time. Here are a few questions to reflect on:
How is my personal time with God in prayer and Bible study?
How am I carving out time for my wife? Family? Friends?
Am I taking days off? What am I doing to feel refreshed on those days?
How is my health? Am I eating healthy foods? Am I getting exercise?
How am I investing in my education and personal growth?
Am I taking time to evaluate and dream about ministry?
In future posts we will tackle some of these areas more specifically. If you are feeling overwhelmed or in need of some encouragement, feel free to contact me. I would love to walk with you and support you as we seek to serve our Savior.
You can leave a comment by clicking here.