If you are looking for a book on marriage that quickly gets to the heart of what makes a strong marriage, then Hold Me Tight is the book for you.
Hold Me Tight: Seven Conversations for a Lifetime of Love is written by Dr. Sue Johnson. Dr. Johnson is one of the preeminent marriage therapists today, and the founder of an approach to couples therapy called Emotionally Focused Therapy (EFT). First published in 2008, Hold Me Tight is the first book Dr. Johnson wrote for the general public.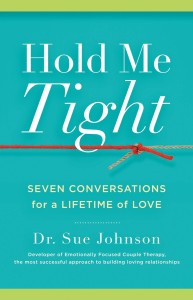 Couples often argue about issues such as money, sex, or relationships with in-laws, and many books focus on helping couples resolve specific struggles such as those. Other books go a step deeper and work on general conflict resolution, communication skills, or love languages.
Dr. Johnson says that to solve couple problems, we need to go even deeper than that, down to fundamental questions that rise out of universal attachment needs, questions such as: Are you there for me? Do I matter to you? Will you try to understand me? Can I count on you to value me?
When we don't have a sense that our spouse is there for us, we have two basic options: to push harder to try to make it happen (pursue), or to give up on getting our needs met and shut down (withdraw). This leads to negative patterns in marriages, where the more one person pursues, the more the other person withdraws, and the more that person withdraws, the more the first person pursues, until both partners feel discouraged, hurt, and even more disconnected from each other.
Dr. Johnson describes the importance of feeling connected to our spouse:
For all of us, the person we love most in the world, the one who can send us soaring joyfully into space, is also the person who can send us crashing back to earth. All it takes is a slight turning away of the head or a flip, careless remark. There is no closeness without this sensitivity. If our connection with our mate is safe and strong, we can deal with these moments of sensitivity. Indeed, we can use them to bring our partner even closer. But when we don't feel safe and connected, these moments are like a spark in a tinder forest. They set fire to the whole relationship.
The seven "conversations" in Hold Me Tight are designed to help couples to identify the negative patterns in their marriage, lessen their reactivity, and build a new positive interaction cycle, where both partners feel listened to and cared about. The book includes chapters titled "Forgiving Injuries," "Bonding through Sex and Touch," and "Healing Traumatic Wounds."
I highly recommend Hold Me Tight for anyone who wants to understand relationships better, and especially for couples who are willing to take the time to discuss the book together and work through the "Play and Practice" exercises included in each chapter. I am trained in EFT, and love using these principles to help couples to build strong, lasting marriages, where both partners feel like part of a securely-connected team.
You can leave a comment by clicking here.